ACIC is a broad-based pharmaceutical and fine chemical company that manufactures through a global network of FDA inspected and cGMP compliant partner manufacturing plants.
ACIC provides clients and partners with active pharmaceutical ingredients (API's), finished dosage forms, injectables, contract manufacturing services, process development and optimization, regulatory services, clinical services from cGMP and FDA inspected facilities. ACIC and our clients and partners have established a tremendous reputation and are recognized for high quality products and performance efficacy.
Key Supplier
ACIC has been a key supplier to the North American pharmaceutical market since 1973 and was the API supplier in the first Paragraph IV challenge and continues to be very active in many Paragraph IV and ANDA filings today. To complement this core activity, ACIC established a generic division to work closely with customers and partners to bring approved ANDAs to market.
Regulatory
Over the years, ACIC has assisted pharmaceutical and biotech companies develop new molecules and optimize process's which lead to our successful approval and launch of a new product in Japan in 2009, followed by Europe and the USA in 2014. We have more molecules in advance stages of clinical testing.
Global Team
Our global team of seasoned professional will work with you to establish a mutually beneficial relationship. We will be there from start to finish every step of the way, from Molecule to Market. Our reputation is based on your success.
Founder & CEO – ACIC Pharmaceuticals
Luciano has been involved in pharmaceuticals in Europe since the late sixties and arrived in North America in 1969 to join the pioneers of the generic industry and became a key supplier of antibiotics to both the branded and generic industries.  He moved to Canada in 1972 to build the first API antibiotic plant in Canada, and in 1973, founded ACIC and masterminded the Corporation's evolution from distribution to research and development, as well as manufacturing in both APIs and Pharmaceuticals for the pharmaceutical industry worldwide. Luciano was one of the founders of Canadian Drug Manufacturers' Association (CDMA) and served as Chairman for three and a half years from 1985-1988.  He is also a founding member of Generic Pharmaceutical Industry Association (GPIA) in the United States, formally known as GPhA, now called the AAM (Association of Accessible Medicines).  Luciano has been intimately involved in patent legislations in Canada and United States for over 20 years. Luciano was awarded the Lifetime Achievement Award from AAM, (Association of Accessible Medicines) at Access 2023, AAM's Annual Meeting. He was congratulated and recognized for his lifelong work to expand access to lifesaving medicine that have helped countless patients over the years, and continue to do so.
President – ACIC Pharmaceuticals
Chris Rayfield has been a valued member of the ACIC Pharmaceuticals team for over 27 years. He has held various positions within the company of increasing responsibility and currently serves as President of the organization overseeing the Sales, Marketing, and Operations of the company. Chris currently serves on the Board of Directors of the Chamber of Commerce, Brantford-Brant and is Chair of the Business Excellence Committee and on the Board of Directors of St. Joseph's Lifecare Foundation. Chris is a past Board member of GPhA (now AAM) which is the Generic Pharmaceutical Association Advocacy Group in the USA and also served 3 terms as a Board of Director and Executive Committee Member of DCAT (Drug Chemical and Associated Technology) which is a business development and Trade Organization based on the USA. Chris received his Diploma in Business Administration, Marketing from Sheridan College then went on to receive a Degree of Bachelor of Administration, General Management in 1995 from Lakehead University.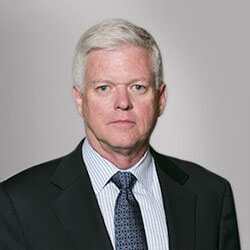 Director / Partner
Craig Baxter has over 30 years of experience in the pharmaceutical industry, and acquired an interest in the ACIC Group in 2015 and is currently the CEO at Methapharm. He has extensive experience in the development of global sales and marketing organizations, as well as manufacturing facilities, in both finished dosage pharmaceuticals and API's. He has held numerous senior executive positions including Chief Executive officer of Sherfam Inc, Apotex Holdings, Apotex International and Chairman of the Board of Cangene Corporation. In a charitable capacity, he served as a Director and Chairman of the Board for Humber River Hospital.
Chief Legal Officer
Chris Calenti is a licensed attorney and holds a B.Comm, a JD, and an MBA from the University of Toronto. With twenty years of commercial experience in specialty pharmaceuticals and active pharmaceutical ingredients, Chris is presently responsible for business development and licensing opportunities at Methapharm. He also serves as General Counsel to the corporate group of companies.
General Manager – ACIC Pharmaceutical Machinery
Eduardo Andrade is the General Manager of our pharmaceutical machinery sales team and partner network. Having lived and worked in Brazil, Germany, Italy, Canada and the US, Eduardo brings a wealth of international experience related to complex manufacturing automation systems and custom designed solutions for the pharmaceutical industry. Eduardo progressively refined his commercial and technical expertise over a variety of  leadership positions ranging from International Sales Management, to Business Development and finally General Management. He holds a M.Eng. in Electrical Engineering, and is fluent in four languages.
1973
ACIC Founded
In the mid 1970's, ACIC was responsible for the first antibiotic manufacturing site in Canada. What started as a fine chemical company manufacturing, suppling and sourcing API's has grown to include a global network of FDA inspected and cGMP compliant partner manufacturing plants. Manufacturing, developing and providing API's and licensing products to the North American market. To assist clients and customers along each stage of the process ACIC expanded on their services to meet the ever changing and expanding demand of our clients.
1976
ACIC formed as a Marketing and Distribution Organization
Our initial product offering included Allopurinol, Amitriptyline, and Erythromycin. A successful track record of manufacturers allowed product pipeline to grow quickly.
1986
ACIC opens its first R&D Lab for Chemical Synthesis
Over the years, ACIC has developed international experience in the following areas: Analytical Method Development and Validation, Process Optimization, Synthesis & Fermentation, Regulatory Support, Clinical / Pilot / Validation Production under cGMP, Industrial Production
1987
ACIC builds Synthesis Plant in Brantford, Canada
The facility housed a complement of 1000 L stainless steel and glass-lined reactors. Approved by the US FDA and the Canadian TPD, the focus was on small volume / high value products and filled a niche in novel process development.
1991
ACIC becomes leading manufacturer of AZT API
Amid a growing controversy over access to badly needed medicines for AIDS patients, ACIC develops a novel process for the production of AZT API. ACIC supplies material to partners in over 30 countries and receives its process patent shortly thereafter.
1993
ACIC / SIGNA Joint Venture Agreement
Signa, an established API manufacturer in Mexico, was ideally positioned to take advantage of NAFTA. At the time, Signa was a 20,000 square meter facility with over 300,000 liters of manufacturing capacity. Over the years, Signa has grown to be a world-class API facility
1993
ACIC / CANLAC Joint Venture Agreement
CANLAC was a state-of-the-art 14 million dollar facility producing 10,000 metric tons of Lactulose per year. The facility was strategically linked to its source of key starting material. ACIC assumed technical, regulatory and marketing responsibilities for the JV.
1993
ACIC Opens European Sales Office
The international marketing of Lactulose from CANLAC was handled by ACIC EuropeACIC EU successfully partnered with European pharmaceutical companies to commercialize CANLAC's product. Since 1993, ACIC EU has been actively developing specialty products for API markets in Europe and other countries.
1994
ACIC builds new R&D Facilities
A 20,000 square foot facility housed new R&D Labs and analytical equipment. Investment enabled ACIC to attract highly qualified researchers to the company. ACIC became a reputable player in custom / contract research and synthesis.
1995
ACIC Expands Manufacturing Unit
ACIC exported products to the US and 40 other countries. ACIC filed 30 DMFs from its own facilities. By 1995, ACIC had a significant number of process patents including patents for AZT, Nadolol, and Fluconazole.
1996
Start of Specialty Pharma Group
Methapharm, ACIC's Specialty Pharma affiliate, in-licensed Provocholine® (methacholine chloride) from brand. Capitalized on synergy of API manufactured by a partner company; has become leading product in the U.S. and other markets; demonstrates ACIC's ability to create value for our partners
2004
New Head Office Opens
ACIC's newest facility houses our Regulatory Services Group, cGMP compliance teams, and Alliance Management group. The Specialty Pharma Group operates from the same location as well as from a US distribution centre in Florida.
2004
 Methapharm in-licenses second product
Custodiol® HTK, manufactured in Europe, is an organ preservation solution used in transplant setting. Highly technical sell to specialist surgeons. Methapharm has become a market leader in Canada bringing value to the partner company.
2006
ACIC MACHINERY
Fourteen years ago our Machinery Department was established to meet our clients machinery requirements. We offer injectable manufacturing for high potency and nuclear injectable products as well as state of the art inspection machines with artificial intelligence.